Your Workspace Problems Defined
Whether you are a mechanic, farmer, or factory manager, your demanding tasks require a tough, reliable workbench. Without the right workspace, your efficiency can suffer, and valuable tools may lack the storage they deserve.
Amplify Your Work Experience
Without the right workbench, your productivity may dwindle. You need a workbench that not only withstands heavy-duty tasks but also optimizes your workflow with smart storage solutions.
The Solution For You
We've spent years engineering the perfect balance between toughness and design in our workbenches. Each bench is custom-built, offering welded joints for durability, a solid wood substrate beneath a steel top for resilience, and heavy-duty drawers with a four-bearing glide for smooth operation.
What makes Dyco Ventures Stand Out
Sturdy Construction
Our workbenches feature a solid wood substrate, 10-gauge steel tops, and frames constructed of 1.5-inch square tubing with welded joints.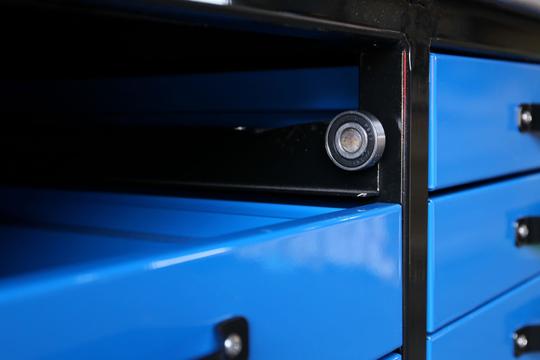 Robust Drawers
Heavy-duty drawers can withstand 300 lbs and feature a four-bearing glide for smooth operation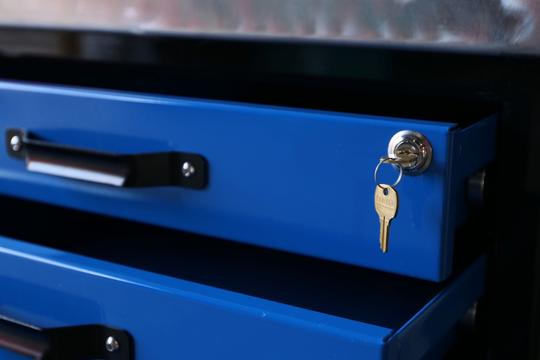 Flexible Configuration
You can choose the perfect drawer configuration that meets your specific storage needs.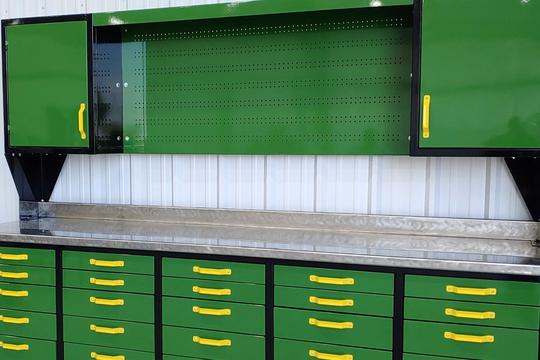 Durability
All joints are welded for optimal durability, ensuring your workbench stands up to the most demanding tasks.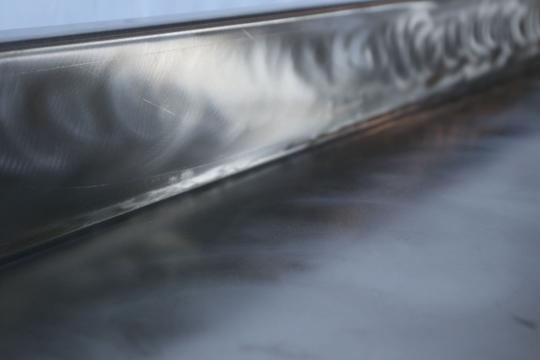 Transform Your Workspace
Imagine a workspace that's no longer cluttered, where each tool has its place, and your workbench bears the weight of any task you undertake. Our customers have found not only an upgrade in their work efficiency but also a renewed sense of satisfaction in their work environment.
★★★★★

Add customer reviews and testimonials to showcase your store's happy customers.

★★★★★

Add customer reviews and testimonials to showcase your store's happy customers.

★★★★★

Add customer reviews and testimonials to showcase your store's happy customers.

★★★★★

Add customer reviews and testimonials to showcase your store's happy customers.

★★★★★

Add customer reviews and testimonials to showcase your store's happy customers.

Our Offer: Custom-Built Workbenches

Dyco Ventures is proud to offer workbenches ranging from 2ft to 12ft. Choose from our robust steel top or upgrade to a stainless steel or black steel top for a sleeker look. You also have the freedom to choose your drawer configuration and whether to add upper cabinets for extra storage.

Workbenches in sizes ranging from 2ft to 12ft
A choice of a robust steel top, or upgrade to a sleeker stainless steel or black steel top
Freedom to choose your drawer configuration
Option to add upper cabinets for extra storage

Take Action Now

Ready to transform your workspace and elevate your productivity? 

We will guide you through the customization process and deliver your dream workbench right to your doorstep. 

GET A FREE QUOTE

Workbenches Drawer Configuration

We offer seven different drawer configurations. The price of the workbench will change with the drawer configuration you choose. The prices are per drawer bank. The drawer banks are 2ft each. Standard workbenches have all drawer banks of the same configuration. We can mix and match drawer bank options for a custom configuration.

Customizable Options

Another aspect that separates us from the competition is the ability to customize the workbench to fit your exact needs. You can choose multiple sizes ranging from 2-12 ft., upgrade to stainless steel workbench top that comes with a 11-gauge stainless steel on a 1.5-inch wood substrate. You can also opt for an upper cabinet option that provides a lot more storage space.

Choose Workbench Size

Workbenches in numerous sizes including 2 foot, 4 foot, 6 foot, 8 foot, 10 foot, and 12 foot long. The drawer banks are 2 feet wide.

Custom Drawer Configuration

You can customize your workbench drawer configuration any way you like for a custom configuration charge.

Choose Stainless or Black Steel Top

Stainless steel tops are 11-gauge with a wood substrate. Black steel tops are 10-gauge steel with a wood substrate, giving you a surface that is practical and looks great at the same time.

Choose Upper Cabinet Option

We offer upper cabinets for all of our workbenches. You can choose from two options, either two cabinets with peg-board as shown, or solid cabinets all the way.

Choose Your Color

Choose your workbench color. We offer powder coated workbenches in orange, blue, red, green, lime green, grey and black.

What to Look for When Choosing a Metal Workbench with Drawers

Consider the type of drawer system that will work best for you. There are two basic types of drawer systems: ball-bearing and friction. Ball-bearing rollers offer smooth operation and can handle heavy loads, while friction systems provide a more budget-friendly option.
Think about the size of the workbench. Workbenches come in a variety of sizes, so it's important to pick one that will fit comfortably in your workspace. If you have a small space, check for a compact workbench with a smaller footprint. Conversely, if you have a large space or plan on doing heavy-duty work, choose a larger workbench.
Take into account the portability option. If you plan on moving your workbench around often, choose a lighter-weight model with casters. If portability is not a concern, opt for a steel workbench with drawers.

Frequently Asked Questions

What Is the Best Heavy-Duty Workbench to Buy?

The best heavy-duty workbench is the one that best meets your needs. Consider the workbench size, weight, and portability of the bench before making a purchase. DycoVentures offer steel workbenches with cabinets that are powder coated, and that can withstand all type of projects. We offer custom-built workbench options to fit your needs and budget.

How Much Does a Heavy-Duty Workbench Cost?

Heavy-duty workbenches vary in price depending on the bench size and weight, storage options, and materials used. A heavy-duty workbench will cost you around $1,000 - $2,500. If you're considering a workbench with drawers at Dycoventures, the lowest price here for a 2ft standard workbench is $1,031. The bigger the bench you need, the higher the price will be. If you need large storage space, consider a 10ft standard workbench for $5,387.

What Is the Best Top for Workbench?

For heavy-duty tasks, steel is the best option as it's durable and can handle heavy weights. When shopping at DycoVenturs, you can find 11-gauge stainless steel counter tops for workbenches that will serve you for years. If you're craving a more affordable option, consider a laminate top workbench.

How Do I Choose the Size of a Workbench with Drawers?

The size of the workbench will depend on the tasks you plan to do. If you need lots of storage space, consider 8ft - 12ft durable steel workbenches. Our heavy-duty workbenches can also be upgraded with upper cabinets to keep all your stuff at hand. For smaller projects, a 6ft size will suffice.

We ship workbenches nationwide.

GET A FREE QUOTE

Please fill out the form below, we will reply to you as quickly as possible.

Usually within a few hours on business days.